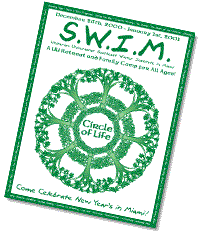 Download the SWIM Registration Forms (Final)
FORM00R1.pdf (191K)

Download the SWIM 2000 Brochure (Really Final)
SWIM00R2.pdf (632K)

Everything in the SWIM 2000 Brochure is online in standard HTML format except for the Registration Forms. You may not need the full brochure in electronic form. You will need a copy of the FREE Acrobat Reader software version 3.0 or later to read either of these files. Most computers come with this software pre-installed. If it's not available on your computer, you can download a copy of Acrobat Reader from http://www.adobe.com/products/acrobat/readstep.html.

Of course, we'd be happy to send you a printed brochure as well!

Corrections: Vonnie's Phone Number is actually 919-834-9049. If you want to carpool (ride/drive, with/without vehicle), please email Vonnie Hicks at VMHicks@aol.com , call him at the number above, or simply mark your registration form with the appropriate information to get on the Dec. 10th emailing list.